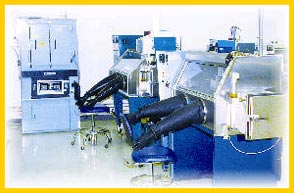 eComp and its Partners the DoD and their OEM Contractors offer a source for reliable Custom Hybrids & Specialty Electronic Products used in mature long life programs. eComp and it's partners specialize in Hybrid Microcircuits and assembly of semiconductors in hermetic packages such as: Flat Packs, DIPS, TO-46, TO-18, TO-87, TO-39, TO-99, TO-3, TO-254, TO-258 to name a few. These include replacement devices for products which have been discontinued by sources such as:
National Semiconductor (Linear & Digital Hybrid Products)
Fairchild Semiconductors (Linear & Digital Hybrid Products)
Analog Devices Modules & Hybrids
Burr-Brown Modules & Hybrids
Datel & Beckman Hybrids
Mature Logic families e.g. RTL, DTL, TTL, CMOS
Capabilities:
Design, Development, Production
Thick & Thin Film Technologies
Multi-Layer Substrates
Mixed Signal Custom Circuits
Chip & Wire
Active Trim
Large Diameter Wire/Power Applications
Seam Seal/Resistance Weld
Lead Forming
Second Source of National, Fairchild, Teledyne, Burr-Brown Hybrids
Markets:
Defense
Aerospace
Space
Medical
Communications
Automotive
eComp can help you with custom hybrids and specialty electronic products!
Call us at 508-881-8399 or 1-877-463-2667 or email us now.