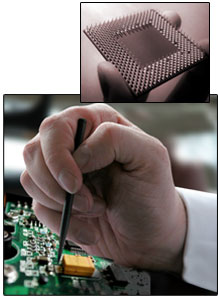 At eComp, we are electronic component procurement specialists locating hard-to-find, allocated, mature parts to support your production and legacy systems. We test and re-engineer obsolete and legacy electronic components so your system will run like new.
Electronic Components Manufacturers Line Representative
Franchise Distributor: New Product/Design Applications
Value Added Support & Services Company
Monzite Corporation/Impellimax
Lansdale Semiconductor
KCB Solutions, Inc.
Legacy Flat Panel Displays
Military Surplus
Surplus Capacitors
Surplus Electronic Components | Semiconductors
Surplus Transistors
Call eComp today and let us be your Procurement Specialist for Obsolete and Legacy Electronic Components. Call us at 508-881-8399 or 1-877-463-2667 or email us now.