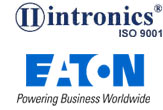 eComp offers a variety of power management products including: UPS products, surge protection, power distribution, enclosures, replacement batteries, DC products, software, connectivity and remote monitoring, custom-designed power converters, isolation amplifiers, analog function modules and CRT connection devices.
We offer Eaton Power and Intronics, Inc. power management products through our eComp Systems website:
Eaton Power Systems
Intronics, Inc.
Call eComp today and let us help you with Power Management. Call us at 508-881-8399 or 1-877-463-2667 or email us now.