eComp is a specialty distributor and authenticator of electronic component products for the military, aerospace, medical and industrial marketplace. We provide authenticity verification / value added services for legacy components and can offer engineering assistance and custom replacement solutions for obsolete products and systems.
Our Vision:
Enabling the Production of your Legacy Systems today
Supporting Life Cycle requirements for Tomorrow
eComp. . .Your Path to the Future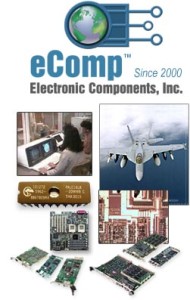 eComp offers OEM's and Sub-Contract Manufacturers the value added technologies and services necessary to compete in today's Hi-Tech Industrial world! Electronic board and component assembly requires availability of the right components prepared to the exact customer specifications. eComp delivers many of these services from our component technologies, management, assembly and value added groups.
Our Mission is to provide quality product at the best price/service, maintain or decrease your standard costs, increase our customers knowledge of opportunistic industry trends and create a long term partnership with electronics manufacturing companies seeking the best possible solutions to reduce costs and increase manufacturing productivity!
Located near Boston's Technology Highways, eComp has accessibility to products, knowledge, market conditions & value added services that New England prides itself in providing.
Our Customers include:
Ametek
BAE Systems
DOD
EADS
General Dynamics
General Electric
L-3 COM
Lockheed Martin
Raytheon
Thales
Sanmina-SCI
Sypris
eComp's Cage Code 1R2D3
Certifications & Registrations
NSAI AS9120B/ISO 9001:2015 Certificate
CSA International – Product Testing and Certification
IDEA Compliant
ITAR Registration – International Traffic in Arms Regulations
The Defense Supply Center Columbus (DSCC)
GIDEP – Government-Industry Data Exchange Program
RoHS Directive – Restriction of Certain Hazardous Substances
FCC – Federal Communications Commission
ERAI – Supplier and Counterfeit Part Risk Mitigation Solutions
JEDEC-IPC – Global Standards for the Microelectronics Industry
MIL-HDBK – United States Military Standard
Oasis – Online Aerospace Supplier Information System
AS 9120 – Quality Management Systems: Aerospace
AS 6081 Compliant – Counterfeit Electronic Parts Avoidance
eComp
Electronic Component Solutions / Electronic Component Procurement Specialists