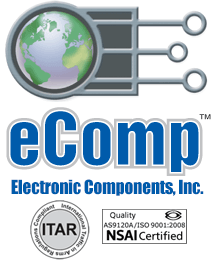 As procurement specialists, eComp locates hard-to-find, obsolete and legacy electronic components from hundreds of electronic component manufacturers. Click on the categories below for a list of manufacturers,
Semiconductor Manufacturers
Electronic Connector Component Manufacturers
Electronic Relay Manufacturers
Passive, Active Electronic Components, Batteries, Communications Components and Antenna Manufacturers
Call eComp today and let us be your Procurement Specialist for Obsolete and Legacy Components from hundreds of Electronic Component Manufacturers. Call us at 508-881-8399 or 1-877-463-2667 or email us now.