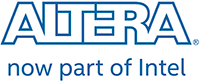 Altera Corporation is the pioneer of programmable logic solutions, enabling system and semiconductor companies to rapidly and cost effectively innovate, differentiate, and win in their markets. Intel acquired Altera in 2015.
Devices:
Stratix® IV FPGAs
Stratix III FPGAs
Stratix II FPGAs
Arria™ GX FPGAs
Cyclone® III FPGAs
Cyclone II FPGAs
HardCopy® IV ASICs
HardCopy III ASICs
HardCopy II ASICs
MAX® II CPLDs
Design Software:
Quartus® II Software
SOPC Builder
DSP Builder
ModelSim®-Altera
Nios® II IDE
Intellectual Property (IP):
Nios II Embedded Processor
Interfaces & Peripherals IP
DSP IP
Communications IP
Design Services:
Certified Design Center Partners
Consultant Alliance Program Partners
Dev. Kits & Programming Hw.:
Altera® Development Kits
Partner Development Kits
Daughter Cards
Download Cables
Call eComp today and let us be your Procurement Specialist for Obsolete and Legacy Altera Components. Call us at 508-881-8399 or email us now.