Cost Effective Test Solutions
eComp is an independent electronic component testing entity providing testing for the aerospace, defense, medical, automotive and commercial industries. eComp is uniquely positioned to satisfy all your testing needs via our independent ISO 9001:2015 AS9120B component testing partners.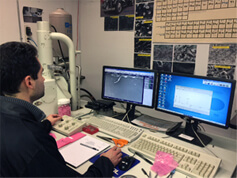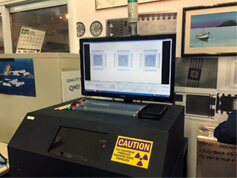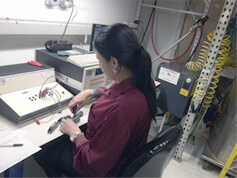 eComp's testing offerings include:
Component Test Services Overview
Quality Compliance
>NSAI ISO 9001:2015 AS9120B
> MIL-I-45208
Equivalent Testing
> MIL-STD- 981
> MIL-M-38510
> MIL-STD-750
> MIL-PRF-38535

> MIL-PRF-19500
> MIL-STD-883
> MIL-HDBK-454
> MIL-STD-202
Environmental Testing
> Solderability/Tinning
> Hermeticity (Fine/Gross Leak)
> Temperature Cycle
> Particle Impact Noise Detection (PIND)
> Centrifuge
> Humidity Testing
> Stabilization Rate
Custom Services
> Device Programming & Erasure
> Selection Testing
> Marking
> Engineering Evaluation
> Bar Coding
> Tape & Reeling
> DPA/Failure Analysis
> Dry Packing

Counterfeit Mitigation
> AS6081 Compliant Analysis
> Lead/No Leads
> Cross Sectioning
In-House Component Test Services: Methodology and Equipment Overview
Electrical Testing/ Burn-In
> eComp has an extensive test program library with capabilities for AC, DC parametric and Functional evaluation and testing of a wide variety of devices ranging from diodes and transistors to more complex linear, LSI, VLSI technologies as well as complete bench test set ups for non-standard parameters and passive components. Static/Dynamic Burn In with positions available for most package styles.
Discrete Testing
> Scientific Test 5150 Test Systems with High Voltage and High Current capability. Scientific Test 5300 Test Systems with Low Current capability and multiple section DUT scanner deck. Capable of recording pre and post burn-in measurements with delta's calculated.
Digital Testing
> Logue McDonald LMO500 – 384 I/O – 100 MHz ( 2 )
> GenRad 1732M Test Systems dc and parametric measurements ( 2 )
> Logue McDonald 324-5 Test Systems-dc and parametric measurements along with propagation delays ( 3 )
Linear Testing
> Analog Devices LTS2020 parametric and functional testing capabilities for linear device such as Op Amps, Comparators, Regulators, DAC's and ADC's ( 2 )
Memory Testing
> Darkhorse Systems Sigma II dc parametric performed of DRAM devices
> Darkhorse Systems Sigma LC functional testing of DRAM ( 10 )
Passive Testing
> GenRad 1689 RLC Digibridge Test System
> GenRad 1687-B LC Digibridge Test System
> GenRad 1684 Megohmmeter

Counterfeit Mitigation
> SEM with Energy Dispersive X-ray (EDX) (Joel JSM5900LV)
> Nikon Microscope 400X Digital Pictures
> National Microscope 20X Digital Pictures
> Creative Electron X-Ray (Tru-view 180-3)
> VWR Digital Controlled Ovens
> Solvent Test Hood
> Cross Section Analysis

Programming & UV Erasure
> Data I/O Unisite Systems. Variety of fixtures for a large assortment of devices (4)
> BP Micro BP1400/84
> UVEProm Erasing Cabinet (3)
Partical Impact Noise Detection
> MIL-STD 883 Method 2020 and MIL-STD 750 Method 2052
Labeling
> Brady Printer TMT 200M assortment of labels for all types of packages – kapton labels for high temperature applications
Tape and Reeling
> Q-Corp QMT-1100D Manual Taping System
> Q-Corp QC-1000 Pocket Counter

Contact eComp today for electronic component testing services and solutions. Call us at 508-881-8399 or 1-877-463-2667 or email us now.