MELF resistor (Metal Electrode Leadless Face): a leadless cylindrical component that is metallized on two ends. It is designed majorly as a SMD component. Since the manufacturing process of the MELF is more complex than a flat-chip resistor, the MELF has its own advantages over flat-chip type. Although flat-chip resistor is cheaper, the Performance/Price ratio of the MELF is still better than flat-chip resistor. That's why it is widely used in certain demanding electronic circuits.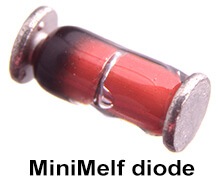 Carbon film MELF – CM series, RDM series
Metal film MELF – MM series
Precision metal film MELF – MMP series
Power MELF (1/2W & above) – EFP series
Surge MELF – SRM series
Stabilized MELF – SM series
Current Sensing MELF Resistor – CSM series
Stabilized Power MELF (1W and above) – SFP
Call eComp today and let us help you with MELF (Metal Electrode Leadless Face) resistors. Call us at 508-881-8399 or 1-877-463-2667 or email us now.