Why do I need to worry about power protection?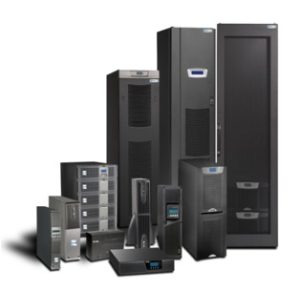 A business that lacks a power protection and recovery plan faces two major risks that often feed off one another. The first risk involves physical or digital assets owned by the company. These mission critical assets are things like email servers, lab equipment, production equipment and user documents. The second risk represents a loss of time and man hours when an event requires recovery from equipment failures or data loss. Even events that last 10 seconds or less require anywhere from fifteen minutes to several hours of recovery. Every minute that goes by costs your business in lost revenue and man hours. This makes power protection an important part of any proactive action plan you implement. The solutions offered by eComp through our partnership with Eaton will mitigate the risk to your business, saving valuable time and money.
What can I do to minimize these risks before an outage?
Assess your current equipment to make sure that it is protected by a UPS (uninterruptible power supply). This allows for a graceful shutdown or a swap to standby power in the event of a power failure. Many businesses attempt to use consumer grade products in a commercial environment at great risk to their equipment. These products are insufficient to the task of protecting their equipment because they do not address all the risk factors. You must also assess if the equipment meets your current protection needs by addressing more than just outages.
In truth, power failure is just the most obvious of power disturbances. Our product solutions offer protection against nine common problems found while using utility power. Minor power sags, line noise and voltage overages also cause damage that remains hidden because it isn't directly observable. While surge suppressors protect against some power surges, they do not protect your equipment by conditioning incoming power. They also offer no defense against power sags or short term outages. Generators are useful in an outage, but do not provide protection from other power disturbances. The ten seconds it takes to swap to back-up power is just enough time for equipment to shut down under unsafe conditions. A UPS is a better option because it augments and supersedes both of these strategies allowing you to power through towards a solution.
How can eComp help and why should I chose Eaton Products?
As a company reliant upon technology to help us achieve our goals, we're proud to say that we've partnered with Eaton Power Systems. We want to provide our customers with the best power management products on the market and Eaton products deliver a reliable and stable performance. Eaton offers plug and play, fully integrated and scalable products with in-house or remote monitoring software. Their TAA compliant and Energy Star rated products help meet government sourcing mandates with ease. From small business to large scale data centers and even production facilities, eComp can help  you configure the right solution with our free, onsite evaluation.
Call or email us today to talk with a Power Management Specialist!