Rack Mount Displays • Color LCD Flat Panels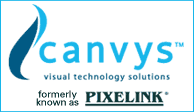 Canvys Rack Mount LCD Displays are easy to install into an EIA standard 19″ rack, top quality construction and optics, all mounting hardware included.
• Available in 17″, 19″ or 20″
• 19″ and 20″ have standard VGA and DVI
• Optional S-Video – (standard with 20″)
• Add touch screen or protective shield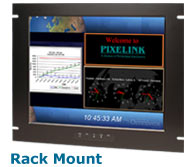 Applications:
• Manufacturing, Process Control
• Transportation
• Security
• HMI
• IT
Industrial applications may be the most demanding environment for LCD's and fl at panel displays. Whether your requirement is for a display for your console, an HMI, a CRT replacement or any factory automation process, Canvys has the product for you. Combining our engineering expertise with the latest in flat panel display technology, finding the right options for your unique application is simple. The rack mount LCD offers rugged construction, superior image quality, extended product life cycle, front controls and agency certifications. Select optional touch screens, protective glass and fi lms, NTSC/PAL and S-Video connections, brightness enhancements or NEMA type enclosures. Canvys can customize your rack mount display providing custom colors, private labels, silk-screens, special power requirements and customized warranty and service programs.
Canvys Rack Mount LCD Displays
• 3M Dispersive Signal Technology
• VGA and DVI connections, optional NTSC/PAL, S-Video
• Lightweight but rugged design for industrial, security, military and IT applications
• Superb Quality – clear, bright, high contrast ratio with wide viewing angle
• Attaches directly to front flange of standard 19" rack
• Detects the sync type (separate, composite or sync on green) automatically
• Perfect for VARs, System Integrators and OEM's
• Optional Touch Screens – Capacitive, Resistive or SAW
• Available with Protective Shields (AR/AG or Clear) or Privacy Shields
Click here for a PDF spec sheet.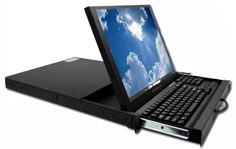 1U Rack Mount TFT Consoles:
• 1U Rackmount Single Rail easy to install & use
• 15", 17″ or 19′ LCD Bright Active Matrix TFT Display
• OSD function (On Screen Display) for LCD display
• Durable Notebook keyboards with Touchpad
• Panel protected by tempered glass
• LCD AutoShut off in closed position
• Separate rail design, can be installed by one person
Call eComp today and let us help you with Rack Mount LCD Displays. Call us at 508-881-8399 or 1-877-463-2667 or email us now.