Solution to electronic parts obsolescence issue in Electronic Systems Sustainment
Problem Statement: Customer's 1970's airborne platform is in sustainment mode. An electronic sensor used a tiny MT-42 plastic packaged MT4xxx high gain transistor long out of production. The transistor performed a critical function in the operation of the sensor.
Background: eComp & Monzite are industry leaders in support of legacy electronic systems sustainment. Four approaches were considered as possible solutions:
Procure inventory from legacy stock and apply counterfeit mitigation process
Redesign of the complete sensor using current available military grade electronics. Cost estimate $400,000 and high risk assessment.
Re-layout of existing design using same semiconductors packaged in available military grade packaging. Cost estimate $250,000 and medium risk assessment
Design/Procure replacement part in same form, fit and function. Cost estimate $50 – $150,000 and lower risk assessment
Solution: eComp research determined that no legacy stock was available. Additionally the search revealed that there was no commercially available product that might be up-screened to meet the requirement eComp contacted their OEM partner Monzite Corp to design and qualify a military grade product in the original tiny plastic form factor.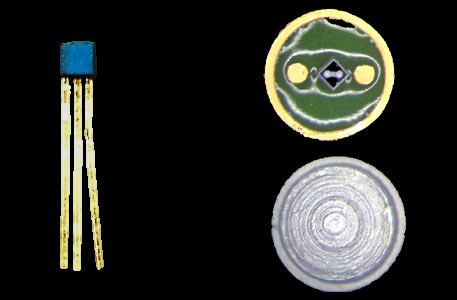 Monzite component engineering applied its experience designing and producing custom hermetic chip and wire hybrids. The Monzite solution was to procure original 2N4xxx bare die and package it in a glass/metal seal, mount and wire bond the die to the leads. A hermetically sealed stainless steel domed lid to completed the design.
eComp/Monzite solution cost $50,000 and fulfilled a 150 piece order in less than 6 months from original contact to hardware delivery. The solution included NRE to secure lifetime supply of bare die, NRE on the custom glass seal and required production tooling.
Conclusion: The legacy part sustainment process has been complicated by the proliferation of counterfeit parts showing up in various distribution channels. The eComp/Monzite approach provides a risk adverse methodology to procuring legacy parts. Additionally the eComp/Monzite integrated approach to legacy parts sustainment is ideally suited to the need for low cost, low volume, time constrained design/procurement of specialized components.