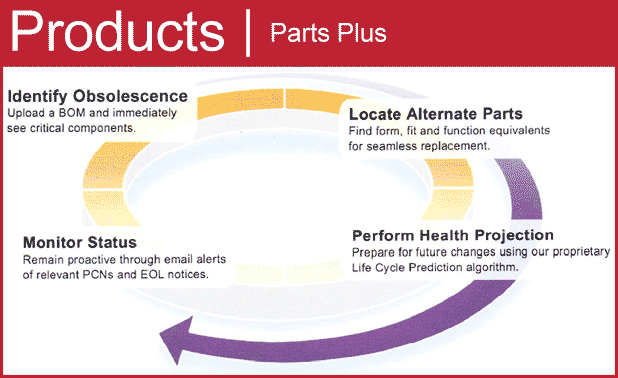 Parts Plus is a supply chain management tool designed to help users institute a proactive process for managing the production availability of electronic components. eComp helps to simplify electronic component obsolescence management & environmental compliance.
The Parts Plus database contains up-to-date information on active, passive and connector components.
Import Data
– Quickly import BOM information utilizing TPP'S Import Wizard
– Iirstantly identify incomplete part numbers using our Part Alias Technology™
– Contact our team of experts to quickly resolve unknown parts
Identify Obsolescence
– Quickly identify critical components using powerful searching and sorting features
– Identify Form, Fit and Function alternates for any part
– Access datasheets directly from the application
– Search aftermarket sources and inventory
– Utilize parametric searching capabilities to identlfy compatible parts
Perform Health Proiection
– Utilize our proprietary Life Cycle prediction algorithm to determine the health of a single part or BOM
Monitor Part Status
– Access PCNs and PDNS
– Receive customizable email alerts
– Generate custom reports based on BOM data
– Monitor industry mergers and acquisitions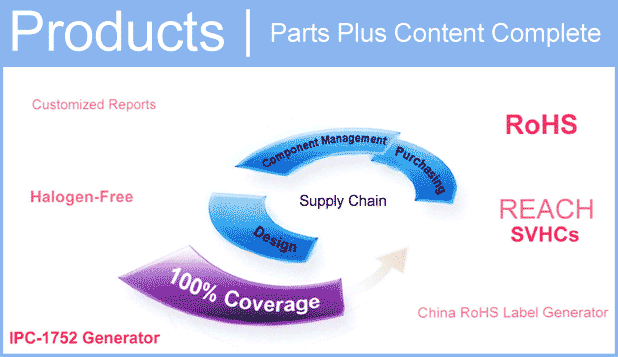 Parts Plus Content Complete is a comprehensive solution for electronic component management, including collection and maintenance of full material content information on 100% of a customer's parts.
Parts Plus Content Complete also gives users the tools to manage their own bills of materials, proactively address obsolescence, and generate custom reports.
Phase 1
Component Research Senrice
Total Parts PIus will:
– Scrub and cleanse all part numbers
– Research parts to obtain 100% Coverage
– Gather full material content down to the homogeneous level
– Load all part numbers into the Parts Plus CI web application
Phase 2
Identify and Replace Critical Components
Identify components that are at risk based on:
– RoHS Compliance Status
– REACH SVHCs
– Halogen Content
– Moisture Sensitivity and Reflow Temperature
– JESD 201 Tin Whisker Testing and Lead Finish information
– End-of-Life Notice
Identify manufacturer-recommended alternates or find form, fit, and function replacements
Customized Reports
Generate fulty customized reports based on any part attribute
Aggregate all compliance documents for a BOM into one file
Generate lPC 1752 data
China RoHS Label Generator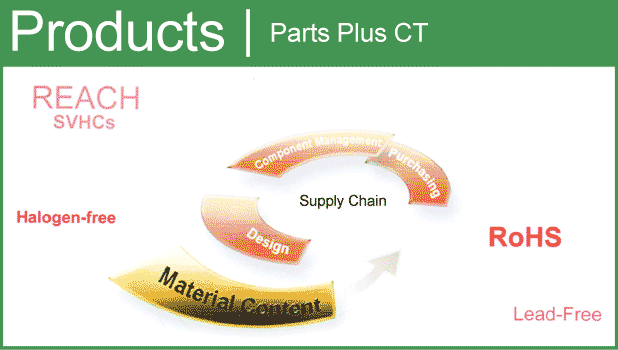 Parts Plus CT is an upgrade to Parts PIus designed to help users comply with various environmental legislations, such as WEEE, RoHS and REACH.
The Parts Plus CT database contains detailed material content information and a cross reference of form, fit, and function alternates. Users are able to quickly identify non-compliant parts and find replacements.
Identify Lead-Free Parts
– Quickly identify RoHS and lead-free compliant parts
– Receive Full material disclosure levels
– Cross reference various standards including WEEE, RoHS, JIG, and more
Determine Compliant Alternates
– Identlfy manufacturer recommended alternates based on form, fit and function requirements
– Ensure manufacturing process compatibility with information relating to:
Moisture sensitivity level
Reflow temperature requirements
– Tin whisker mitigation information
Finish Type
Post Process
Underlayer
Dernonstrate Environmental Compliancy
– Provide REACH SVHC, and Halogen-free flagging for an entire BOM
– Provide certificates of compliancy from the original manufacturer
– China RoHS Label Generator
Call eComp today and let us help you with Electronic Component Obsolescence Management and Environmental Compliance. Call us at 508-881-8399 or 1-877-463-2667 or email us now.