DNA Marking Home
Creating SigNature DNA
Independent Assessment & Testing
Counterfeit Prevention Authentication Program (CPA)
DLA: Anti-Counterfeit Solutions
November 2013 – eComp "QTSL and QSLD Franchised Distributor & Manufacturers Representative for Electronic Components Inc." received approval to provide applied DNA Sciences proprietary DNA Marking on products sold to the DLA.
eComp provides a SigNature DNA unique mark, specifically identifying eComp as an authorized distributor, this is to be applied to incoming components, or legacy inventory before shipment per customer request. From that point forward, the marked components will be absolutely identifiable.
eComp has over 14 years of experience working the logistics associated with selling to the DLA.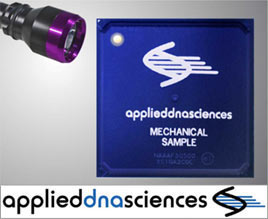 As a franchised source of your products we can assure:
Proper DNA Signature – applied in eComp's lab
Verification of all Marking Requirements
On–Time Government source inspections at our facility
Military Packaging
Proper flow of WAWF and billing policies and procedures
Confirmation and approval of all Government Shipping Regulations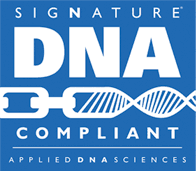 The SigNature DNA Compliant badge identifies companies and agencies participating in the SigNature DNA marking program. These companies are equipped, trained and certified by Applied DNA Sciences to receive in SigNature DNA marked materiel. A company can become DNA Compliant via the CPA Program, and begin forensically protecting their supply chain.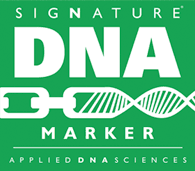 SigNature DNA Markers have a unique SigNature DNA mark created and assigned to their company. A SigNature DNA Marker can be certified for in-house DNA Marking or can choose to have their DNA mark stored andapplied at a certified Third Party Marker.
Next – Creating SigNature DNA >
Call eComp today to get help with DNA marking of electronic components!
Call us at 508-881-8399 or 1-877-463-2667 or email us now.